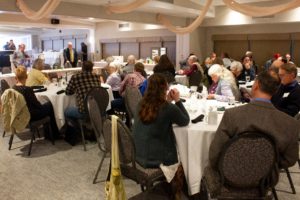 Concord, NH – The New Hampshire Farm Bureau Federation (NHFB) held its 105th Annual Meeting on November 13th at the Hampshire Hills Event Center in Milford, NH. The all-day event hosted by Hillsborough County Farm Bureau featured a lunch banquet, farm tours of local agricultural operations, Trombly Gardens in Milford and Brookdale Fruit Farm in Hollis, as well as a presentation from American Farm Bureau's Jessica Cabrera addressing farm stress and mental health resources. Attendees also had the opportunity to watch a video produced by NHFB showcasing Hillsborough County agriculture to go along with the meeting's theme, "Keeping it Local."
The culmination of NHFB's grassroots policy development process occurred at the event during the Meeting of the House of Delegates. Each year, delegates representing their county Farm Bureaus meet to conduct the business of discussing and voting on policy resolutions and updates to the NHFB policy document. A number of issues were taken up this year including: hunting laws, labor, landowner rights, meat inspection, theft & vandalism, and water use reporting. The policy document guides NHFB's policy work for its members.
The House of Delegates is also tasked with electing a slate of officers each year. With President Denis Ward from Monroe not seeking re-election after six years on the job, the elected slate of officers for 2022 is as follows: President – Joyce Brady of Columbia, 1st Vice President – Bob Cunniff of Langdon, and re-elected were 2nd Vice President – Tom McElroy of Newton, 2nd Vice President – Jay Phinizy of Acworth, and Treasurer – Howard Pearl of Loudon.
Newly elected President, Joyce Brady, owns and operates CJEJ Farm in Columbia, NH, along with her husband Chris. CJEJ Farm is a diversified livestock operation offering cuts of beef, pork, lamb, chevon, chicken, and turkeys and produces their own small grains for feed. The couple also own and operate Colebrook Feeds Farm & Garden Supply in Colebrook, NH. "I've been involved with Farm Bureau since I was in college and have held many leadership positions working up from the Coos County Board of Directors through the State Board of Directors and now President of New Hampshire Farm Bureau," Brady said. "I'm excited to be a leader in this important organization and look forward to working with New Hampshire's farmers to advocate for agriculture."
Other NHFB members were recognized for their outstanding achievements and contributions to agriculture. The following is a list of awards given out this year.
NHFB President's Award
Outgoing NHFB President Denis Ward recognized the 2021 NHFB President's Award winners Bob & Elaine Moore of Westmoreland, NH. Bob & Elaine have each served leadership roles in NHFB at the county and state levels. Bob has held the role of Cheshire County Farm Bureau President on multiple occasions, has been given the distinction of lifetime member to Farm Bureau, and is a previous recipient of the NHFB Profile Award. Elaine is currently the Cheshire County Farm Bureau Secretary and served as the Associated Women of NHFB President from 2018 – 2021. The President's award is handed out annually to acknowledge an individual for their outstanding service to New Hampshire Farm Bureau.
Kenneth R. Marshall Memorial Award

The Kenneth R. Marshall Memorial Award was created in honor of long time Farm Bureau member and employee Ken Marshall to recognize current Farm Bureau members who exemplify not only dedication and service to the agricultural community, but those who do it with kindness, generosity, and selflessness. This year's recipient is Barbara Angevine of Laconia, NH. Barbara has been a Farm Bureau member since 1986 and a member of the Associated Women of NHFB for over 18 years. She has given her time to countless meetings, events, like the Belknap County School to Farm Day, and projects, including the Associated Women's 100-Year Farm Book.
Young Farmer Animal Husbandry Award
Hannah Morrill of Sunshine Pastures in Barnstead, NH, is this year's recipient of the NHFB Young Farmer Animal Husbandry Award. Hannah demonstrated exceptional livestock practices on her family's small farm raising beef cattle, sheep, goats, pigs, chickens, and more. The Animal Husbandry Award has been developed by the New Hampshire Farm Bureau Federation Young Farmer program to promote sound animal husbandry. Candidates for this award are nominated by their fellow Young Farmers and the judging is based on a set of criteria, including best management practices.
Young Farmer Excellence in Agriculture Award
The 2021 NHFB Young Farmer Excellence in Agriculture Award was given to Ben Davis of Canterbury, NH. The award acknowledges the efforts of Young Farmers who do not derive the majority of their income from farming, but are actively contributing to agriculture and to their community.
Ben grew up involved in agriculture spending time at his grandparent's farm in Canterbury while being involved in 4-H and FFA. He followed those pursuits to SUNY Cobleskill where he majored in Agriculture Equipment Technology. Today he owns his own company specializing in forestry mulching, field reclamation, and pasture renovation. He also works at Apple Hill Farm and harvests roughly 50 acres of hay. Ben has been involved with the NHFB Young Farmers Committee for many years serving on their board of directors and volunteering in many community service projects.
Ben will move on to compete with other Excellence in Agriculture Award winners from across the country at the American Farm Bureau Annual Convention in Atlanta, Georgia.
Young Farmer Achievement Award
This year's NHFB Young Farmer Achievement Award winner is Amy Matarozzo of LorrenJoyce Farm in Barnstead, NH.
The NHFB Young Farmer Achievement Award competition recognizes young people between the ages of 18 to 35 who have excelled in their farming operation and have shown leadership abilities through Farm Bureau and in their community. The ideal candidate for the award is an individual or couple involved in production agriculture with the majority of their income subject to normal production risk.
Amy raises a 60-head herd of registered Jerseys for milking and Hereford beef cattle on approximately 60 acres of farmland in Belknap County. Her love for dairy cows began at Windyhurst Dairy Farm as a young child and continued later at Echo Farm and eventually the University of New Hampshire. Amy and her husband Brian purchased a property in Barnstead in 2014 and started LorrenJoyce Farm from scratch. Today she sells beef cuts, raw milk, raw cream, hard aged cheeses, and raw butter as well as composted manure and cattle. Amy has also been involved with the NHFB Young Farmers Committee for many years spearheading the group's Pumpkin Festival food booth, summer vegetable donations, and serving as Chair of the committee. Amy and her husband have two children, Hayden and Emerson.
As part of the award, Amy will receive the use of a new Kubota tractor for six months or 250 hours from Pinnacleview Equipment in Walpole. They will also move on to compete in the national Achievement Award competition at the American Farm Bureau Annual Convention in Atlanta, Georgia this January.
Profile Award
Each year, NHFB has the honor of presenting the Profile Award to recognize a New Hampshire person or persons for distinguished service to agriculture and rural life. Nominations for this award come from County Farm Bureau Board of Directors and are judged by a panel of past Profile Award winners.
This year's Profile Award winner is Henry D. Ahern, Jr. of Plymouth, NH. Henry is the third generation to own and farm the property in Plymouth, NH that now supports his Red Deer farm, Bonnie Brae Farms. His first twenty-seven deer arrived in February of 1994 and the farm currently supports approximately 200 deer.
Henry has been heavily involved with several farm organizations and farm activities since the farm's inception. That includes the NH Farm Bureau and Grafton County Farm Bureau. He served as County president from 2006-2008 and 2013-2015. He is currently chair of the Livestock and Energy committees, and is on the Policy Development and Government Affairs committees. In the past, he has been recognized for excellence in membership recruitment. He has been a Grafton County voting delegate to the NHFB House of Delegates for several years.
Bonnie Brae Farms and its venison have been featured on the Food Network (Food Finds), American Public Television, Chronicle (WMUR), Cooks Corner (WMUR), Outdoors with Bob (L'Heureux), and most recently, "State Plate" with Taylor Hicks.
The Profile Award was first given in 1941 as a tribute to Mary Lee Ware.  Miss Ware was actively involved in agriculture and conservation in New Hampshire. Henry is another deserving winner for his outstanding service to New Hampshire Agriculture and New Hampshire Farm Bureau.
**Hi-Resolution Photos Available Upon Request
###
New Hampshire Farm Bureau (NHFB) is a non-profit federation, established in 1916, of New Hampshire's 10 county Farm Bureau organizations which consist  of nearly 2,000 NH farm families and over 1,000 supporting members. NHFB is dedicated to advocating for and educating the public about agriculture. NHFB is a general farm organization where the members establish policy and direction through a member driven policy development process.