2018 New Hampshire Farm Bureau Awards & Recognitions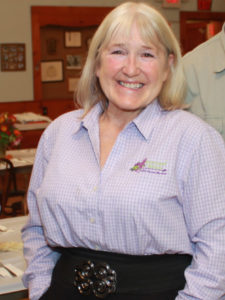 NHFB President's Award:
Ruth Scruton

NHFB President Denis Ward recognized the 2018 NHFB President's Award winner Ruth Scruton of Farmington at the 102nd Annual Meeting of New Hampshire Farm Bureau. Ruth has been a committed member and volunteer for NHFB and a true advocate for agriculture. She has most recently served as the NHFB Associated Women's President for six years, has testified before various committees in the NH House & Senate, and recently retired from running the Travelling Barnyard for many years. The President's award is handed out annually to acknowledge an individual for their outstanding service to New Hampshire Farm Bureau.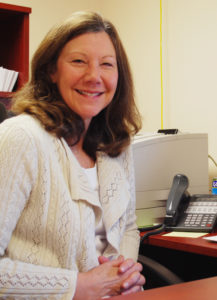 Kenneth R. Marshall Memorial Award:
LeeAnn Childress

 Earlier this year, NHFB lost an important former member, employee, and friend in the passing of Ken Marshall. Ken had a tireless dedication to NHFB and agriculture more broadly and that type of dedication deserves to be remembered. The Kenneth R. Marshall Memorial Award is awarded by the NHFB Staff to a member volunteer who represents the values so much a part of Ken's life: Someone who unselfishly gives of one's time and talents, helping to better the organization and the greater community. The inaugural award was given to LeeAnn Childress of Loudon. LeeAnn is a past staff member at NHFB and in her retirement has become an incredibly valuable volunteer always stepping up to the plate when called upon and never looking for anything in return.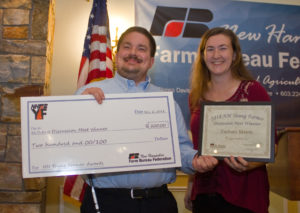 Discussion Meet Winner:
Zachary Mason

Zachary Mason of North Stratford, NH was named the winner of the 2018 NHFB Young Farmer Discussion Meet. Competitors in the Discussion Meet prepare thoughts and opinions on various subjects facing agriculture and cooperatively work towards a solution.
The goal of the Discussion Meet is to develop leaders for effective problem solving through group discussion, similar to the organization's grassroots policy development process. The competition provides an opportunity for Young Farmers to build basic discussion skills, give and receive criticism in a helpful manner, develop an understanding of important issues, explore and pool knowledge to reach consensus, and solve problems.
Zachary Mason grew up on his family's dairy farm, Northwinds Farm, in North Stratford and has always had a passion for animal agriculture. Despite losing the complete use of his right eye and a great deal of use in his left eye at the age of four, Zac says he has never let his disability stand in the way of his goals. He attended Cornell University studying animal science and belonged to the Cornell Dairy Fellows Program. He is now a Master's Student at Mississippi State University studying in the department of Animal and Dairy Sciences. He looks forward to a career in livestock production consulting, agricultural policy, or farming.
Ammy Rice of Rochester and Ben Davis of Webster also participated in this year's competition.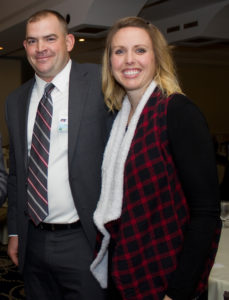 Young Farmer Achievement Award:
Glen & Meredith Putnam

 This year's NHFB Young Farmer Achievement Award winners are Glen & Meredith Putnam of Winsome Farm Organics in Piermont, NH.
The NHFB Young Farmer Achievement Award competition recognizes young people between the ages of 18 to 35 who have excelled in their farming operation and have shown leadership abilities through Farm Bureau and in their community. The ideal candidate for the award is an individual or couple involved in production agriculture with the majority of their income subject to normal production risk.
Glen and Meredith own and operate Winsome Farm Organics in Piermont, NH with their two children Ella and Nathaniel. They milk 30 plus cows and ship their milk to Stonyfield Organics in Londonderry. Glen is the Grafton County Farm Bureau President and is currently serving his 10th year in the Naval Reserve as a Petty Officer 2nd Class. Glen is also a certified 4-H leader and helps coach local youth sports teams. Meredith oversees the data entry team for the Human Resources Systems department at Dartmouth-Hitchcock and runs the farm when Glen is gone for military duties.  She also is pursuing her Bachelor's degree in Business Management with minors in Human Resources and Information Technology.
As part of the award, the Putnams will receive the use of a new Kubota tractor for six months or 250 hours from Pinnacleview Equipment in Walpole. They will also move on to compete in the national Achievement Award competition at the American Farm Bureau Annual Convention in New Orleans, Louisiana this January.
A panel of judges consisting of State Representative John O'Connor, Ruth Scruton of Farmington, and UNH Professor Emeritus John Porter travelled across the state visiting the nominee farms to make their decision. Also nominated for the award were Eric & Fiina Glines of Sloping Acres Farm in Canterbury.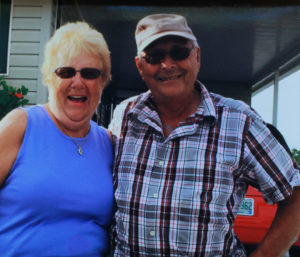 Profile Award:
Archie & Helen Coll

Each year, NHFB has the honor of presenting the Profile Award to recognize a New Hampshire person or persons for distinguished service to agriculture and rural life. Nominations for this award come from County Farm Bureau Board of Directors and are judged by a panel of past Profile Award winners.
This year's Profile Award winners are Archie and Helen Coll of Jaffrey, NH. Archie and Helen Coll moved to their farm in Jaffrey in 1961 where they began raising broilers and eventually added laying hens to the mix. By 1979 they had a newly-built, state-of-the-art cage house for 20,000 layers. At one point, they were processing eggs from 120,000 hens. This included working with Amish farmers in New Holland, Pennsylvania and operating a farm in Weedsport, New York.
Along with the chicken business, the couple also started Coll's Farm Stand, which opened in 1961 and is still in operation today. Growing 25 acres of sweet corn, 20 acres of other vegetables, plus greenhouse strawberries, they offer direct to consumer sales from the farm stand and support their local community by employing local young people.
The Colls have always belonged to Cheshire County Farm Bureau, like their parents before them, and have served in multiple capacities throughout the years including as active Young Farmer Committee Members. Archie even served on the National Young Farmers Board.
Their Profile Award Application sums it up best, saying: We have planted seeds, raised chickens, sold produce, and always promoted agriculture. Two farm people fell in love, started a family, bought a farm, and now we are 38 members strong and still growing. What a testament to love, family values, and farm living!