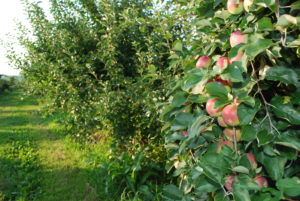 Foreign agricultural workers can apply for H-2A Visas which allow them to work seasonally in the United States on farms and other agricultural operations. Many farmers in New Hampshire count on this H-2A labor to fill seasonal positions on their farms. In the past few years, employers here in New Hampshire and across the country have had to deal with costly delays in the process of getting these laborers to their farms on time. As frustrating as the process is, the alternative could mean having no workers at all
The United States Department of Labor, in their overview of H-2A labor, states, "Before the U.S. Citizenship and Immigration Services (USCIS) can approve an employer's petition for such workers, the employer must file an application with the Department's Employment and Training Administration (ETA) stating, among other things, that there are not sufficient workers who are able, willing, qualified, and available, and that the employment of aliens will not adversely affect the wages and working conditions of workers similarly employed in the U.S." Beyond those prerequisites, employers must first attempt to fill the positions with U.S. workers. This amounts to posting job listings on multiple websites or newspapers to prove that the employer is making an earnest effort. If, as is usually the case, there are no domestic workers eager to work long hours of physical labor during the hottest times of the year for very fair pay and a roof over their heads, then farmers can accept foreign laborers using the H-2A visa.
What often goes uncommunicated to the public is the level of work ethic, skill, and pride that H-2A laborers demonstrate on the job. These workers are not being exploited or plucked at random to perform menial tasks. Some H-2A workers have been working at the same farm for over 30 years. They become part of the team. They become valued employees who are genuinely irreplaceable. With that in mind, imagine if your longest serving employee, the one you count on to teach new employees or keep things operating smoothly, was restricted from coming to work for a month or more. This happens regularly in agriculture and can cost farms dearly. Recently the United States Citizenship and Immigration Services and the State Department announced plans to launch a new online approval platform with the aim of eliminating these delays. By modernizing the process, farmers will no longer need to wait for the postal service to deliver their correspondence to Chicago and then wait even longer for a response. Hopefully, this new system will give farmers a more powerful and expedient tool to communicate with the agencies that coordinate the H-2A labor system and keep farms operating at full capacity.
To learn more about how labor issues affect agriculture around the country, check out this recent video produced by American Farm Bureau discussing the issues of agricultural labor and immigration here .
-Josh Marshall, NH Farm Bureau Communications Director