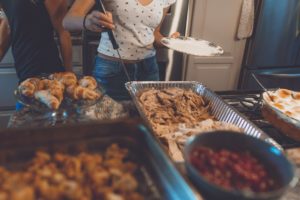 It's all turkey talk here in New Hampshire as we head into the Thanksgiving Holiday. Families and friends are preparing their menus and looking up recipes for their favorite holiday treats. The debates have already begun on how to best prepare the turkey (oven, deep fryer, or smoker?) and what is the best side dish.
One thing folks don't have to argue about is what the average cost of a Thanksgiving meal will be this year. American Farm Bureau completed its 34th annual Thanksgiving Dinner Cost Survey to show that a meal for 10 people, complete with all the classic Turkey Day trimmings, costs $48.91. That works out to less than $5 per person!
Their findings are based on over 250 volunteer shoppers across the country price checking in their supermarkets of choice. You can view the full results here. Nine shoppers from New Hampshire submitted surveys to AFBF and the cost of a full meal here in NH is slightly higher than the national average at $54.14.
Giving Back
Thanksgiving is a time to reflect and appreciate what we have and the NHFB Young Farmers have also made it a time to give back to those less fortunate. For the third year in a row, the NHFB Young Farmer Committee has collected and delivered Thanksgiving dinner baskets to families in need across the state.
This year 30 baskets including turkeys, potatoes, squash, apples, eggs, and cider all produced here in NH were delivered to the Salvation Army of Concord, the Boys & Girls Club of Greater Concord, and various locations in Coos County. The NHFB Young Farmers solicited donations of those locally grown products and completed the baskets with donations of items like stuffing, macaroni and cheese, and canned vegetables thanks to Farm Credit East in Bedford.
Pardon Me
One lucky turkey won't be making an appearance at anyone's dinner table as Governor Chris Sununu and Attorney General Gordon MacDonald asked the Executive Council on Monday to pardon 'Joanna', an 18-pound female turkey raised at Birch Rise Farm in Sanbornton. Kate Osgood, who serves on the Belknap County Farm Bureau board of directors, and her husband Ken brought their two sons Hunter and Henry to escort Joanna through the State House Monday morning to take part in the ceremony.
While Executive Councilors asked some tough questions, a unanimous vote ultimately granted the pardon for Joanna. She will now find a home at Crotched Mountain School in Greenfield where she will join last year's poultry pardon recipient, Brooke.
We here at New Hampshire Farm Bureau wish you all a happy and safe Thanksgiving!